Audio and Text editing inside Videos
28 March 2023 | 5 min min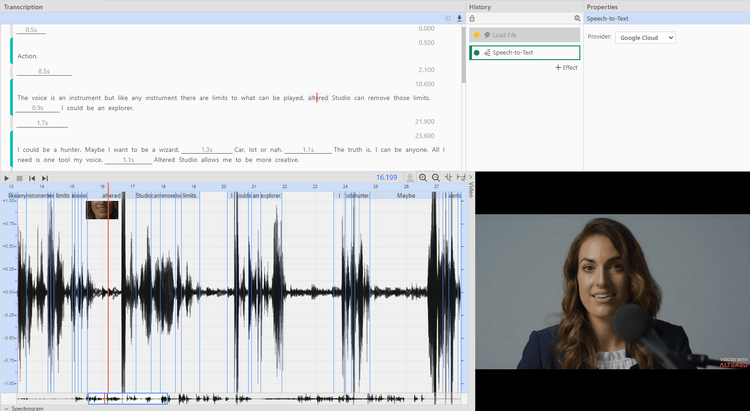 We are thrilled to announce the latest addition to Altered Studio, available on all our plans: the ability to import a video and directly edit the audio stream and generate and export its transcription. Whether you want to add background music, create a voiceover, make some minor adjustments to the audio, or just transcribe a podcast or create subtitles for a video, this new feature makes it easy to do it all. You no longer need to use multiple programs to extract, edit and recombine the audio from your videos, you can do it all in Altered Studio!
How it works
Working with videos in Altered Studio is easy. You can import your video using the menu**: File→Import Video**. Altered Studio can import audio from various video formats:
MP4: (MPEG-4 Part 14) A digital multimedia format for storing audio and video.
AVI:  (Audio Video Interleave) A multimedia container format used for storing audio and video content. It was first introduced by Microsoft.
MOV: A multimedia format developed by Apple for storing video content. It uses the QuickTime technology and supports multiple tracks for video, audio, subtitles, and other data
OGV:  An open-source multimedia format used for storing video that is optimized for web use.
WebM: A multimedia format developed by Google for storing video content. It uses open-source and royalty-free codecs such as VP8 and VP9 video codecs and the Vorbis and Opus audio codecs.
To simplify navigation, Altered Studio displays video frames time-aligned with the audio. Video Playback is also available within Altered Studio, but only for the native web formats  MP4, WebM, OGV.
Once the video is loaded it will be featured in a panel next to the waveform. You can now navigate the video alongside the transcription text and the audio.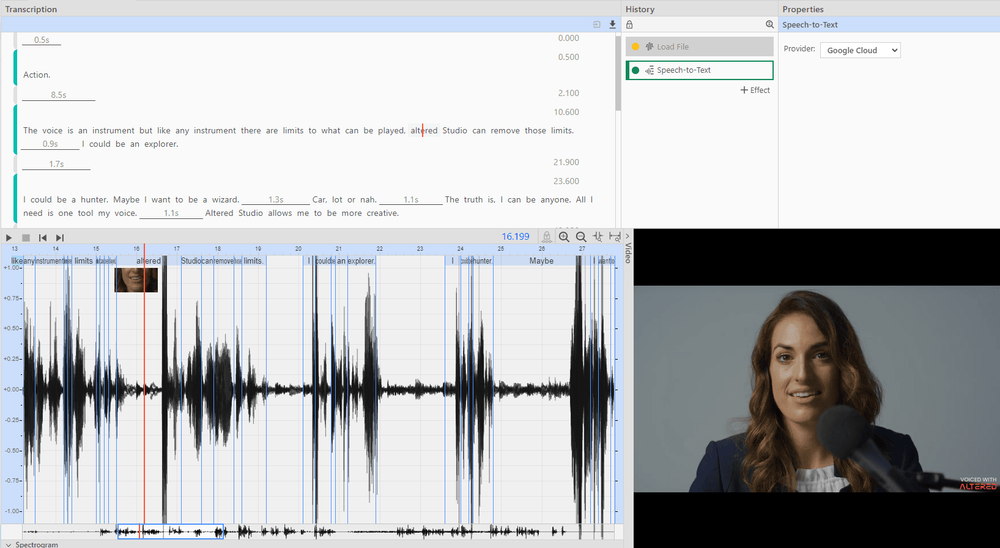 Altered Studio allows you to edit the audio inside a video as you would edit any audio, by automatically taking care of audio/video synchronization. All audio effects and edits are made in the Time-Locked Mode that preserves the time-line and the lip synchronization. Almost all effects and edits are available in Time-Locked Mode:
Cut, Paste, Insert Silence, etc
Recording, Mixing
Text-To-Speech
Speech-To-Speech Voice Morphing
Transcription & Translation
Beyond lips-synchronisation, the Time-Locked Mode is fine-tuned for video-related operations, such as:
create alternative speech performances,
change characters voices
completely replacing spoken phrases
Transcribe speech and translate
Edit and export subtitles and more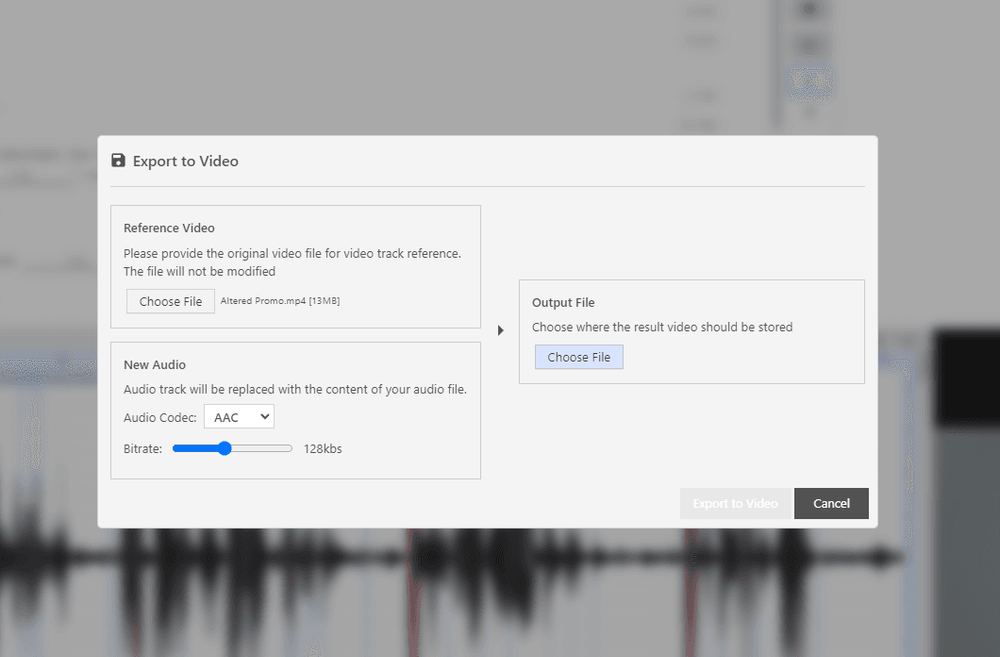 It is important to remember that you are not operating on the video file but on the audio of the video. When you save the file (File→Save, File→Save as), you are saving to an audio file (e.g. .wav, .altf, etc) and not to a video file.
This allows you to work on the audio in a non-disruptive manner, without needing to worry about overwriting your source file. You can, thus, choose to export only the audio via File→Export As, or to recombine audio and video via File→Export To Video.
Note that in order to keep your editing history, you will need to save your audio file as an Altered file (.altf) via File→Save.
When exporting the audio and video together, you will be asked to select the source video file and to choose the audio export settings, such as the audio codec and the target bitrate.
If subtitles are part of your workflow, Altered Studio allows you to export the transcript text, as:
Text: simple .txt file,
Spreadsheet: CSV file, or
Subtitles: SRT file.
Use Cases
AI Voice Changing inside Videos: Quickly change your videos by morphing voices to create diverse and engaging character dialogues, or protect the identity of your speakers by disguising their voices while maintaining their original performance. Tailor your content for different markets by adapting voiceovers to suit local preferences using our unique Speech-to-Speech Voice Morphing. Whether it's training videos, podcasts or your latest YouTube short, Altered Studio enables you to create customised audio experiences that resonate with audiences from various regions, ensuring a consistent and relevant experience for all viewers.

Multilingual Voice-Dubbing: Expand your audience reach by dubbing your videos into different languages while retaining the original speaker's voice characteristics. Our 5-step dubbing process makes it easy: 
transcribe your recording, 
translate the text to the other language, 
adapt the text (if needed) to fit the cultural context of the other language,
revoice the text using Text-To-Speech in the new language, and finally 
morph the audio with a rapid clone of the original speaker, ensuring a seamless and engaging multilingual experience.
Easy Subtitles Generation: Import a script and effortlessly generate perfectly timed and accurate subtitle files with Altered Studio. Use your native language, or translate your transcript and make subtitles in any language to help grow your audience globally. Export settings for your SRT file allow you to adjust the number of lines and characters to suit your needs. 
‍