Altered Studio new interface
08 August 2023 | 3 min min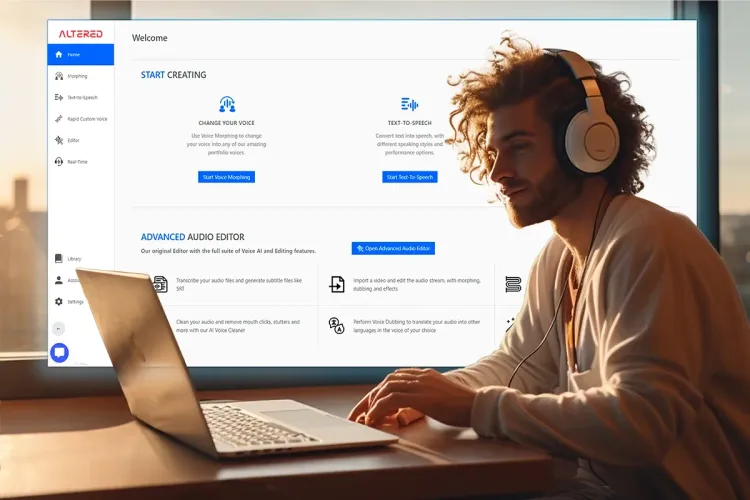 User-centric design for Speech-To-Speech Voice Morphing and Text-To-Speech Synthesis
Our first versions of Altered Studio combined powerful Voice AI and audio effects in a single audio editor experience that Audio Professionals were familiar with. The audio editing experience was designed to allow non-professionals to do sophisticated audio edits in audio and video files without the steep learning curve that traditional audio editing software needs.
We are thrilled to introduce our New User Interface that simplifies Voice AI tasks even further. We have listened to your feedback and made changes to simplify Altered Studio so that using Voice Morphing and Text-to-Speech is effortless and enjoyable for everyone.
Speech-to-Speech Voice Morphing: a canvas for creative expression
First, let's take a look at the updated Speech-to-Speech voice morphing interface.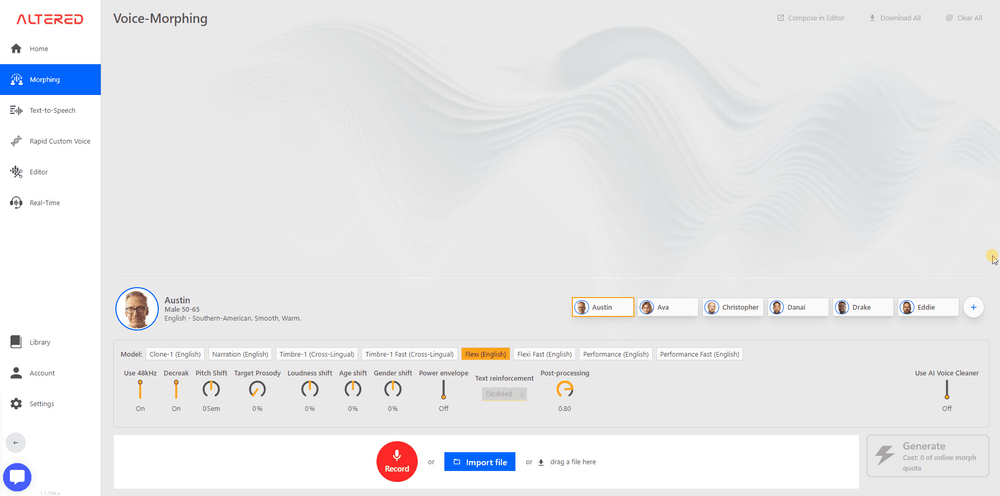 Our UI refresh has made it super easy to load or record a voice file, and then quickly morph your voice. Once your file is loaded, it's just a few clicks to start creating new morphs, allowing you to swiftly try different voices and settings. Because you only use quota on the first morph for any input, you can easily explore lots of options to find the perfect morph for you! Are you Morgan (-5 Sem), or is Ava (Prosody 70) more your jam?
Text-to-Speech: optimised for rapid ideation
Next, our new simplified Text-to-Speech interface. If all you want to do is to turn text into speech, just type and shoot!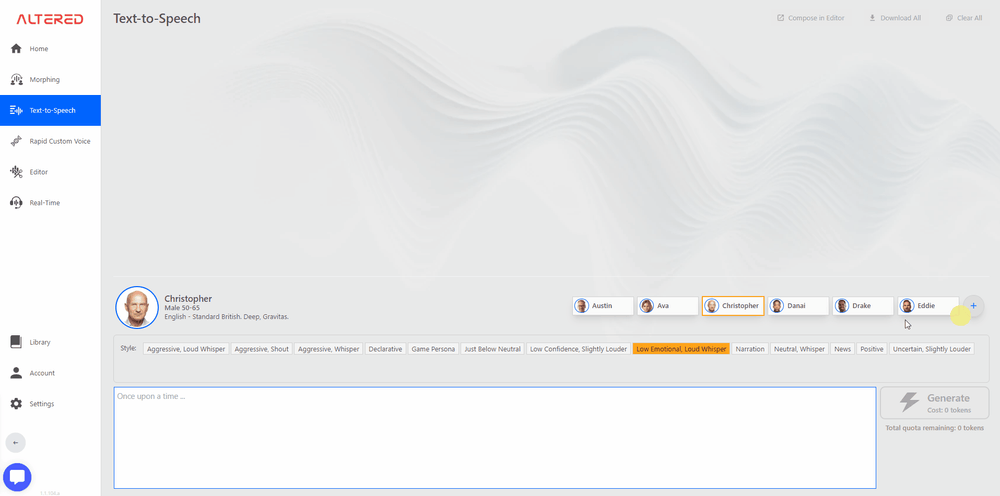 Our new User Interface is tailor-made for the most common use cases involving Text-to-Speech, but with a twist in mind: to make it enjoyable as well. It's not just for fun: at Altered we believe that a lot of creative power is released when hyper-creation and experimentation is kept enjoyable, so that Creators want to experiment more.
An enjoyable User Interface needs to be coupled with great Text-to-Speech synthesis. We've recently supercharged our Text-To-Speech models to the point that in many cases we can't tell if it's a recording or not. Our new Text-To-Speech is perfect for a range of applications such as video voice-overs, content, audiobook narration, and more.
Still a powerful Voice Editing Suite: dubbing, video and effects
All the power of our Professional Altered Studio is still available and one click away from the new Interfaces for Voice Morphing and Text-To-Speech.
Any audio file(s) made in Text-to-Speech and Voice Morphing can be easily edited and combined in our Audio Editor that features powerful audio effects such as:
Video File support,
Loudness normalisation,
Filtering,
Equalization,
Subtitle handling, and powerful Voice AI features such as:
Text-To-Speech,
Voice Morphing,
AI Cleaner,
Transcription,
Translation,
Voice Dubbing.
Streamlined interface: tailored to your feedback
Our primary goal in redesigning Altered Studio was to make it simpler and enjoyable to use from scratch for common tasks such as Voice Morphing and Text-to-Speech.
Thank you for all your feedback so far. We hope you enjoy the new look and feel of Altered Studio and look forward to hearing your thoughts.